Sunrise Mold Removal
Are you having trouble breathing or noticing a strange, almost stagnant smell? Do parts of your floorboards creak when you step on them or do some rooms feel musky? Might you have a problem with water damage or mold removal? While it is clear that you need a restoration company, but what company do you choose from in Sunrise? We easily perform sunrise mold removal, water damage assessment, fire restoration and much more at Projekt Restoration, proudly centered in Sunrise, Florida.
There is a super easy trick to remembering mold and mildew. First, if you can see it, it is probably mildew. Mildew is not afraid of being in the light, while mold thrives in the darkness, so if it is easy to spot it is probably not bad and can be wiped away. Mold has a lot of physical characteristics. While mildew can often be discredited as being a puff of dust. Mold will stick to the wood, develop fur and discolored spots. Which are all terrible on your body if ingested. We cover it more in depth here.
Our Process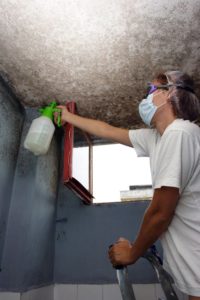 Mold Assessment – While mildew can be easily spotted by the human eye, mold, on the other hand, cannot be so easily determined. One of the best ways to make sure your house is free of the mold is to make sure you hire us as your restoration company. We use infrared cameras, fiber optic cables and more to find just where mold is hiding and where it could be forming from.
Sunrise Mold Removal – Our Mold removal service is the immediate follow-up to an inspection. We constantly work on being more efficient with our mold removal service. It is not as simple as scrubbing it with a brush and being done with it. We have a custom solution that's safe for humans and animals alike, and we treat the area after to make sure no mold grows back from the affected area.
Mold Prevention – After we have found the mold and ridden your house of it, it is time to prevent it from returning. Mold prevention is the service we provide where we fix the leaks that might be causing the problem as well as treat the wood and surrounding area so that if moisture accumulates, it will not be able to turn into anything nasty like black mold.
Projekt Restoration
We love what we do here at Projekt Restoration, and we are proud to live in Sunrise. Mold Removal is one of our favorite trades to perform, and we regularly receive calls about it. If you would like to know more about our services or company, make sure to give us a call at (855) 933-7935!