South Florida is a Stormy Place
Our Services to help you
With its beautiful tropical climate and beaches, South Florida is no stranger to storms and hurricanes. Mother nature is very unexpected when it comes to the weather in South Florida and will cause severe damage if you are unprepared. Each year the National Hurricane Center predicts more than 15 storms and possible hurricanes. The damage these storms can cause is extensive, from down power lines to your neighbor's tree coming through your roof. A storm or hurricane can create significant damage to your home and put you and your families life at risk.
Hurricane Preparation Tips
Shutters – One of the easiest, safest and most cost effective ways to prepare your home for a storm is to install shutters on your windows and doors. With wind speeds during a storm increasing beyond 120 mph many objects not firmly secure will become flying projectiles. This can cause damage to your windows, doors and even more dangerous enter your home. Shutters will have a great impact in keeping the lives and valuables in your home safe during a storm.
Restocking – Local news will usually notify the community of an incoming storm first, prompting them to prepare for the aftermath. As it is always great to have shutters secure your windows and doors to prevent damage to your home from wind and rain damage, restocking your food and water supply is also essential. A severe storm will cause power to fail and in return, cause refrigerated goods to expire quickly. Hurricane preparedness guides recommend restocking your pantry with canned foods and having a sufficient supply of water for at the least six days after a storm passes.
Essentials – After power failure because of a severe storm having the essentials to maintain you and your families safety is needed.
Flashlights
batteries
sufficient water
and first aid kits
These items are just a few of the main essentials to secure you and your families safety and survival during and after a storm. During and after a storm emergency services are sometimes suspended due to the severity of the storm. Having the ability to call 911 would sometimes become useless until the storm passes. You want to be well prepared to deal with any emergency situation that arises where you will be on your own to handle until the storm passes and emergency services resume. The essentials are very important to keep you and your family safe.
Should you Stay or Should You Go – Each town, city, and community, has a prepared severe storm evacuation plan in place to service those who decide to wait out the storm in a safer more secure area. Whether you decide to install shutters to your home, restock your shelves and evacuate until the storm passes; or you simply have not done either and would just like to secure you and your families safety, an evacuation plan for a safe shelter is great. Staying to wait out a storm and its aftermath is a decision for each individual to make on their own, if well prepared for a storm and its aftermath the effects of a storm will not have such immense impact on you and your family. The most important thought to keep in mind is the safety of you and your family.
Emergency Plan – Emergency storm preparedness guides and plans can be picked up at your local grocery store. There are also many outlets for you to inform yourself of the steps to prepare yourself for a storm. This will help you stay safe throughout the storm. If you don't have a storm supply checklist and you would prefer to handle things on your own it would still be essential to have an emergency plan for you and your family during and after a storm. Keep in contact with a friend or relative who lives out-of-state for household members to notify they are safe. It will be easier to communicate with someone out of town than someone down the street from you. Text messages can often get around network disruptions when a phone call might not be able to get through.
Mitigating Storm Damage
Do you have storm damage? Investing in home or property insurance should be one of the first things you do in preparation.
Once contacted, insurance providers are quick to pay for the damage caused by a storm. However, that first step is critical. In an emergency, you need to contact your insurance first before any storm damage repair can occur. Storm damage often will include roof repair, home flooding and structural repairs for your actual home and property.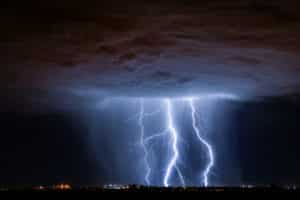 Assess the damage – It is a great idea to take pictures of your property before and after a storm. This will ensure your property and valuables are fixed and if need be replaced. Is your carpet damaged because of the intense flooding from rain? After a storm what you want to do is create an assessment of all the damage to your home. If your home has been damaged, exposure to the elements may greatly increase the amount of damage to your home. Many insurance policies limit your time to file a claim, so don't wait until you have water dripping through the ceiling, mold in the attic, or your roof caves in to call your insurance company. It might be too late to file a valid storm damage claim.
Call the Professionals – Direct Insurance Billing*
Filing a storm damage insurance claim can be a frustrating and confusing process. You will also need to call a professional and reputable repair/restoration company to fix the damage. A trusted professional company might also help in assessing the damage caused by a storm. You may want to get 2 or 3 companies to evaluate your damage and give you and your insurance provider a proper estimate on the repair.
Projekt Restoration
The friendly trusted professionals at Projekt Restoration will handle all your hurricane and storm damage. From mold in your ceilings to a flood-damaged carpet, Projekt Restoration has the most reliable quality service experience you need to make your home safe and secure. With all the madness of property damage and the aftermath of a storm, you will want a company that makes the process just a little easier.
Projekt Restorations service includes direct billing to the insurance company so you can worry about other things. It is essential to prepare yourself for a storm and keep you and your family safe. When the storm clears, it's nice to know there is a company on standby ready to take care of you. Projekt Restoration will make sure you and your family are in good hands.